Best Italian Restaurant In Kuala Lumpur – And It's Halal Food at Positano Risto
Hail from Singapore, Positano Risto is one of the best and newest Italian restaurants opened since December 2018. Located in Publika, right in my neighbourhood although I only managed to give it a try after all the wedding chaos during the first half of the year. So when Sam & I finally had the time for a date night on a Saturday night, we decided to check out this buzzing Italian restaurant.
The restaurant was full when we got in at 8pm. Our expectation was high as It's always a good sign when a restaurant is full. Located at the corner unit near the small park in Publika (across Namoo on the Park), Positano Risto can comfortably seat 100-120 people. Opens daily from 11am – 10pm, it's good to have a nice Italian restaurant near where we are staying.
Food & Drinks
The menu is simple with all the essential Italian dishes, from pasta to pizza, nibbles to meats, soups to salads. Since this is a Halal restaurant, we were curious how's the food would taste without swine or wine. Carefully selected by the restaurant to try some of their signature dishes, we had a sumptuous dinner lined up for us.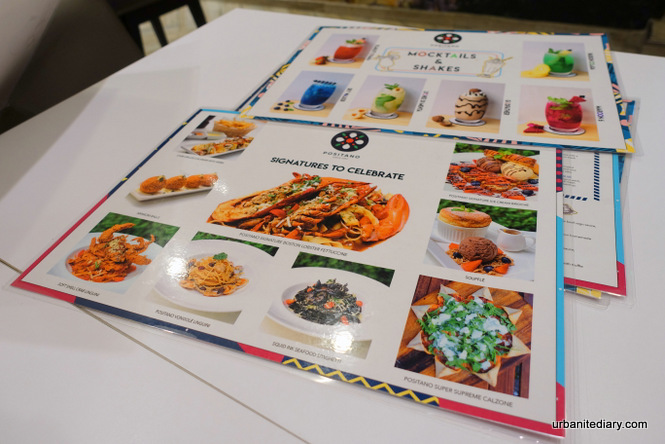 We had the Caesar Salad (RM36.95+) as the starter, followed by the Super Supreme Calzone (RM59.95+), Positano Signature Short Rib (RM78.95+) and KL exclusive's Positano Vongole Linguini (RM39.95+). The portions of the food were very generous, and the food was delicious! Big Teddy enjoyed the Caesar Salad and the Signature Short Rib the most, while I loved the Super Supreme Calzone and the extra spicy Positano Vongole Linguini. The ribs were cooked to perfection with a juicy and tender texture, while the calzone was filled with cheese, mushroom, beef pepperoni and pastrami, with the thin and crispy texture that I loved. Being a spicy food lover, I was glad to have discovered another tasty spicy dish in the Positano Vongole Linguini, which was cooked in basil pesto sauce and white grape juice, topped with clams and dried cranberries. The spicy level could be adjusted according to your taste, of which I went for the extra spicy of course.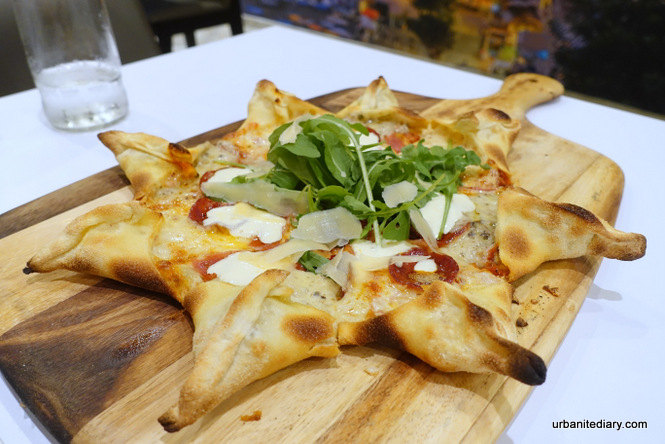 Our sweet ending for the night was also another KL exclusive, Ice Cream Brioche (RM36.95+). I loved the ice cream but the brioche was too much after all the extremely filling main courses. This dessert was meant for sharing so perhaps it's best to share in a group.
As for the drinks, we had one of the signature mocktails, Skywalker (RM22.95+) made with wild blueberries, blue lagoon and lemon-lime soda, as well as Sparkling Artesian Water (RM17.95+) and Cappuccino (RM13.95+). The mocktail was on the sweet side for my taste, but it's definitely refreshing.
What I liked About Positano Risto
Positano Risto is a fuss-free Italian restaurant, great for a casual dining experience for couples, family and friends. The food selection is great, and the price is reasonable. If you're looking for good Italian food (halal version especially), Positano Risto is definitely worth checking out. The best part that I love about this restaurant, it is within walking distance from where I live!
---
Official Website    |     Facebook Page
Address: Block C1, Lot 2, Level G3, Publika Shopping Gallery, Solaris Dutamas, No. 1, Jalan Dutamas 1, 50480 Kuala Lumpur.
Business Hours: 11.00am -10.00pm daily
Tel: +603 6411 3799
Check out my other posts on Kuala Lumpur here.
Check out my other food reviews here.
Do follow my adventures on Facebook here and Instagram here.
---
A big thank you to Positano Risto for hosting our dining experiences. As always, all opinions are my own and I only recommend services that I'd personally use.