Where to stay in Cyberjaya? Check out Dash Box Hotel Cyberjaya
Located in the heart of Cyberjaya and an integral part of the MaGIC Village community, Dash Box Hotel Cyberjaya is a fun and chic hotel filled with colourful arts opened in April 2017. Dash Box Hotel Cyberjaya is one of the best places to stay in Cyberjaya, with 87 rooms developed from old shipping containers, as well as more spacious rooms inspired by the Lombok traditional house.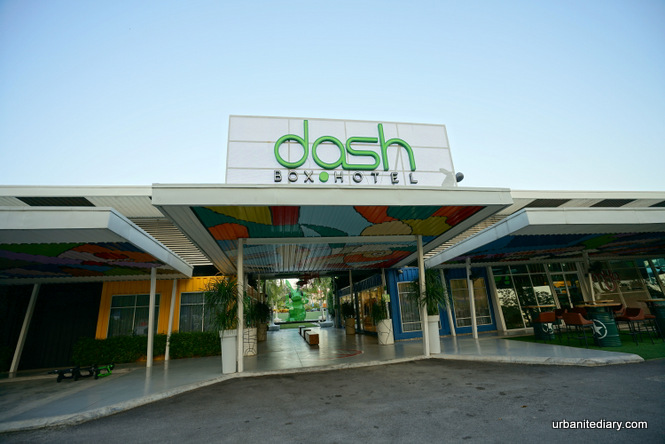 Big Teddy and I drove from Kuala Lumpur home to Dash Box Hotel Cyberjaya, which was a good 40 minutes drive using the MEX Highway. The hotel is quite easy to find using Waze, located at the quiet corner of Cyberjaya.
Check in was swift with the friendly staffs assisted to fill in some details and explained the room and breakfast arrangements. We had a Dash Deluxe Room that came with 2 complimentary breakfast. Car parking were plenty and right in front of our room.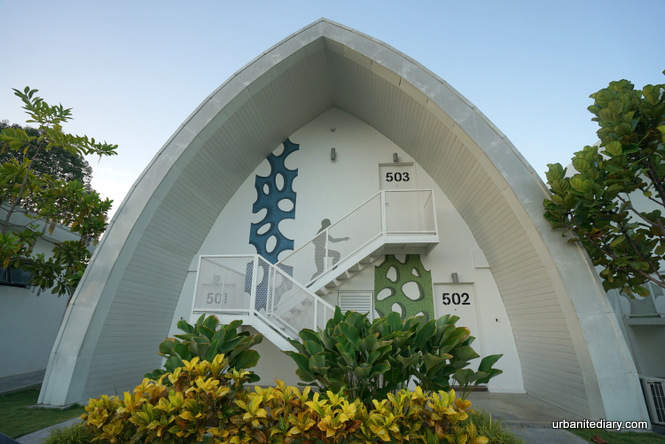 The Room
3 room types are available at Dash Box Hotel Cyberjaya, the Dash Twin, Dash Studio and Dash Deluxe. The Dash Twin is a 14sqm room made out from old shipping containers, while the Dash Studio and Dash Deluxe are bigger rooms in the Lombok traditional inspired houses.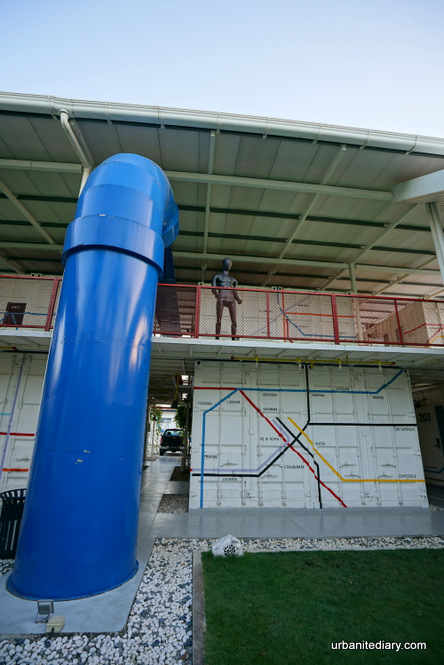 The Dash Studio is 33sqm in size with access to the swimming pool or garden, while the Dash Deluxe is the largest room with 49sqm of space upstairs with balcony overlooking the swimming pool or garden. All rooms are equipped with air conditioning, free Wi-Fi, safe deposit box, and in-room wardrobe and hanger.
Meanwhile, the Dash Studio and Dash Deluxe (the room that we had) have a super king bed with 300 thread count cotton white linens, a 40-inch flat screen smart TV, minibar, tea and coffee making facilities.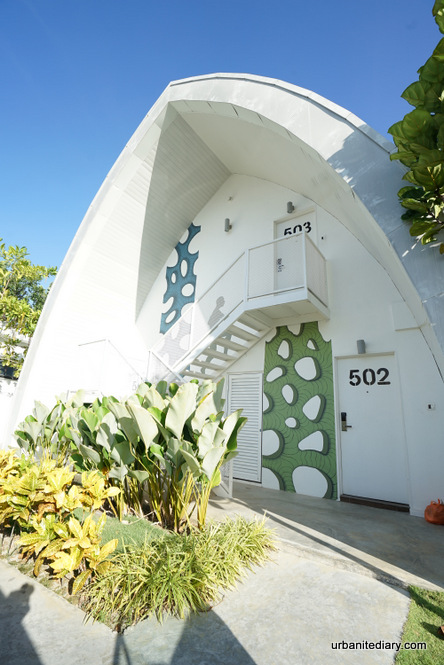 I loved the design of our Dash Deluxe room which is very industrial chic, from the iron headboard to the solid wood beds constructed from a Javanese Joglo, and the beautiful blue lounge chairs. The bathroom is spacious and I absolutely loved the white wall tiles. No bathtub installed but I'm happy with just the large rain shower head.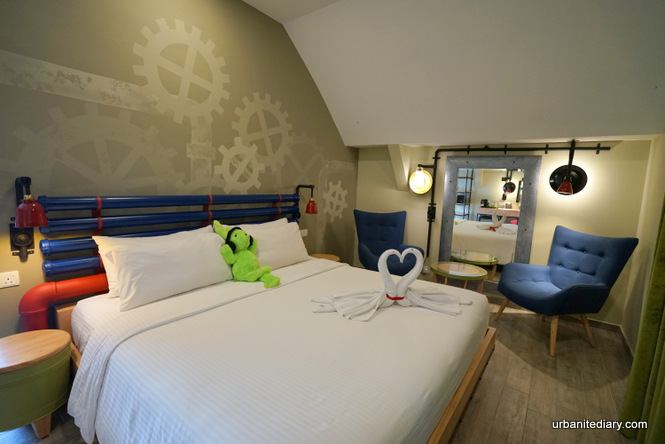 On the other hand, the super king bed was quite comfy for us to have a good night sleep. I did, however, wish the TV channels selections were better with more variety and HD channels instead.
Hotel Facilities
The centrepiece of Dash Box Hotel Cyberjaya is the green bunny statue and the large swimming pool. It was perfect for young kids to have some splashes in the pool and run around the hotel grounds. We saw a lot of families with kids during our stay and enjoying themselves with the hotel's facilities.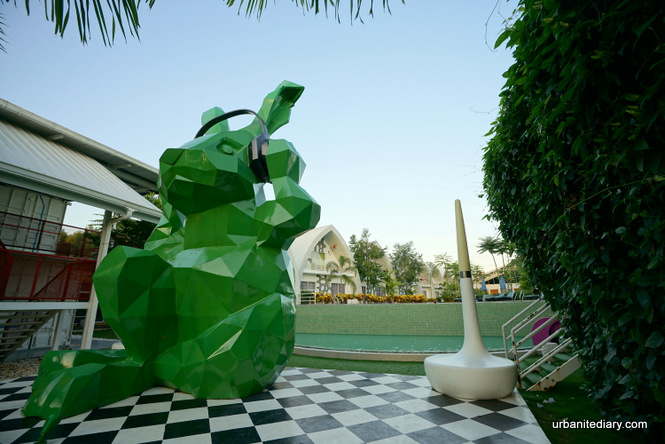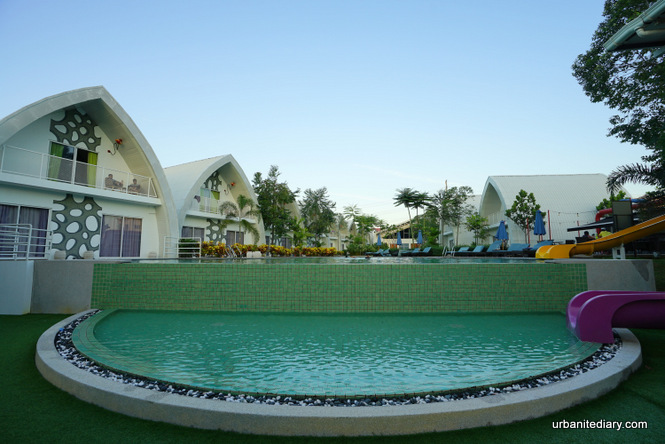 There's also a retail shop and an on-site gym, Flex which features a treadmill, stationary bike, cross trainer, power station, free weights and yoga mats. Or for outdoor person, the hotel has a fleet of bicycles for rental from RM15.00 for 20 minutes. Well, we always love a good cycling ride but took our own bikes down instead.
Dash Box Hotel Cyberjaya also has event spaces such as the Chamber Ballroom and Boardroom for a conference or even weddings.
Dining at Mya Kitchen & Cocktails
Mya Kitchen & Cocktails is the in-house restaurant of the hotel. We had our dinner and breakfast there during our stay. There was a birthday celebration at the restaurant during our dinner experience, hence the restaurant was kind of short-handed. Still, the staff was being attentive as much as they could.
For dinner, we ordered the Kerabu Mango Salad (RM16), Tom Yum Soup (RM22), Deep Fried Whole FIsh Thai Style (RM65), Beef Rendang (RM22) and a Seafood Fried Rice (RM22). We might have over ordered for 2 people, but the portions were not big so in the end, we still managed to finish most of the food. I liked the Kerabu Mango Salad and the Deep Fried Whole Fish the most as they were nicely cooked and very tasty. Big Teddy was let down by the beef rendang was, however, a little overcooked and quite tough to chew. Well, the best part about Mya Kitchen & Cocktails is that they serve cocktails and alcoholic drinks in the restaurant too.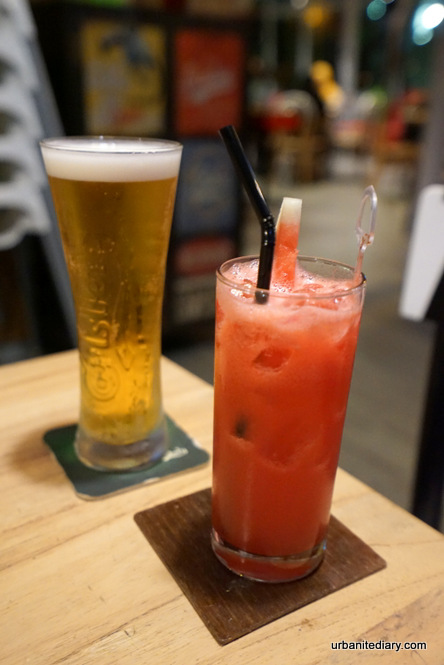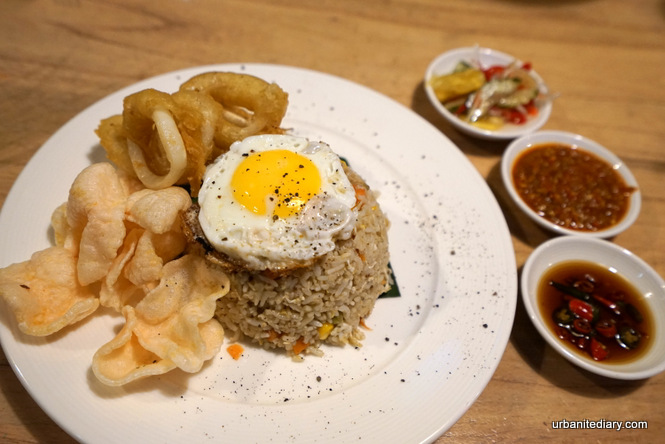 As for breakfast, it was served from 7.30am-10.30am from a wide choice of ala carte menu. However, by the time we got to breakfast at 10am just after our morning bicycle ride in Putrajaya, some the crowd's favourite such as Nasi Lemak and Fried Noodle were already sold out. Big Teddy was happy with his Western Vegetarian Breakfast, while I had to settle for the Roti Canai with Chicken Curry.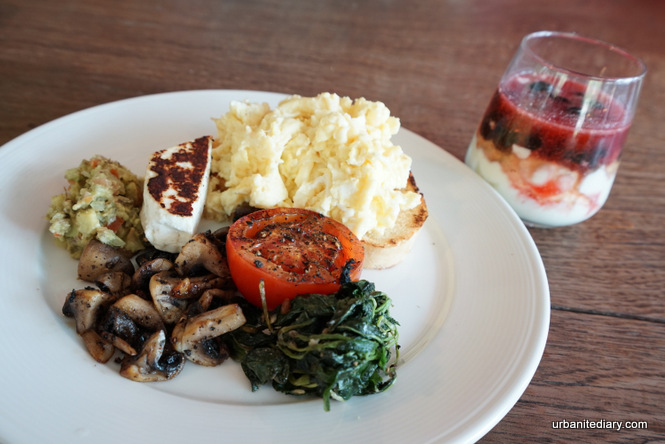 Getting Around
Driving to Dash Box Hotel Cyberjaya is probably the most convenient way to get there. Else, taxi or Grab is also another option to get around. Since Cyberjaya is a short distance to Putrajaya, we took our bikes along for rides in Precinct 2, Putrajaya, which is probably the best place to cycle in Klang Valley. Moreover, there are plenty of attractions in Putrajaya that you could explore, such as Cruise Tasik Putrajaya, Moroccan Pavilion Putrajaya, Putrajaya Wetlands and Botanical Garden.
Final Thoughts on Dash Box Hotel Cyberjaya
Dash Box Hotel Cyberjaya is a quirky hotel great for a family staycation. Kids would love the swimming pool and the fun vibe throughout the hotel. If you want to explore the neighbourhood of Cyberjaya and Putrajaya, Dash Box Hotel Cyberjaya is a good place to be based. For us who want to get away from the busy Kuala Lumpur city, this hotel offers a haven for a different weekend staycation experience.
---
Official Website    | TripAdvisor Review
Check out my other hotel reviews here.
Do follow my adventures on Facebook here and Instagram here.
---
A big thank you to Dash Box Hotel Cyberjaya for hosting our staycation and dining experiences. As always, all opinions are my own.