What to do in Winter Iceland in December for first-timer?
Iceland has been high on my bucket list for a long time, so when Big Teddy and I were planning our annual Christmas trip back to the UK, I decided to take a detour first to Iceland in December, just before Christmas and New Year. Due to the shortest daylights (around 4 hours a day) when we scheduled to be in Iceland in mid-December, we had to plan the best things to do in Iceland around the limited daylights. Also, I'd heard enough of horror stories when travelling in Iceland treacherous' winter weather, so I was quite stressed planning the winter self-drive itinerary for 6 days 5 nights along the south of Iceland. Nonetheless, our Iceland winter trip turned out to be one of the best trips ever!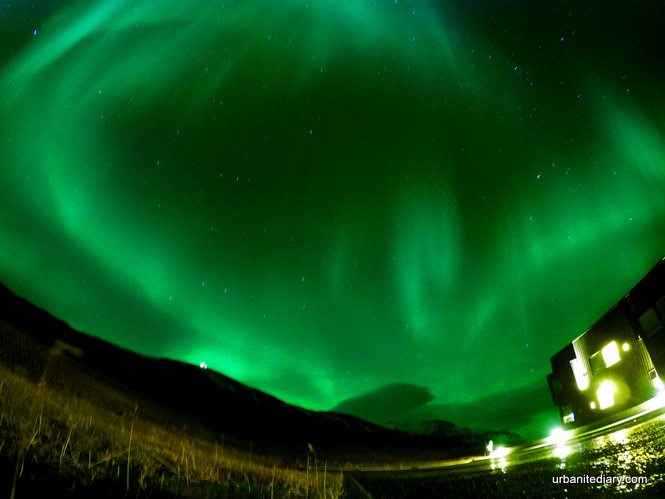 Self Drive or Group Tours in Winter Iceland?
The 1st dilemma that all first timer visitor to Iceland always faces is whether to self drive or join organised group tours, especially in Winter. I struggled with this dilemma too, and ultimately decided to self-drive for our for 6 days 5 nights along the south of Iceland. If you're not a confident driver, organised group tours might be a better idea as self-driving in Iceland in deep winter such as December is extremely stressful and requires a lot of planning and monitoring works. Although Big Teddy grew up in the UK and had driven in winter weathers north in Scotland, driving in the strong wind and heavy snow weather with limited daylights in Iceland proved to be a challenge for him, as he had to be extra careful and exceedingly concentrated throughout the entire journey, where we had to drive 200 – 300km/3.5 – 5 hours a day. In the end, with a little luck with the weather when we were there for 6 days 5 nights, we survived the self-drive trip in winter Iceland without many hiccups.
---
Top Tips for Winter Driving in Iceland: Drive slow and regularly check road condition (http://www.road.is/) and weather (http://en.vedur.is/) before you drive to the next destination. That's why local SIM card comes handy for internet connection.

---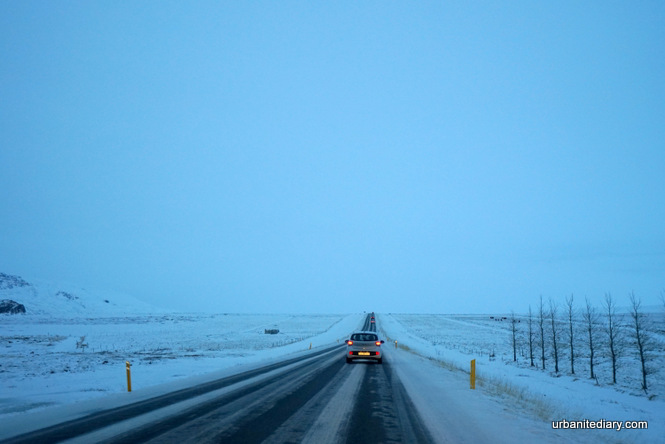 Travelling in Iceland could be quite an expensive trip. Although we came in the deep winter month which is supposed to be the least peak period of the year, we still see tourist crowds everywhere and expenses were still not as cheap if compared to other European countries that we had been so far. I was told that during summer months, the cost to travel in Iceland could go up by more than 50% and requires more advanced planning for popular hotel or restaurant bookings.
---
Top Tips for Money in Iceland: Credit card is accepted everywhere, even for toilet entry. Just bring your credit card activated with PIN number and you are good to go even without the actual currency.
---
Top Things to do in Iceland in December – Winter Itinerary
Despite the harsh winter weather and shortest daylights, there are still plenty of things to do in Iceland in December. Some of the highlights and best things to do in Iceland during winter are the Northern Lights/Aurora hunting, Blue Ice cave, Blue Lagoon, Golden Circle, Diamond Beach, Jokulsarlon, Reynisfjara Black Sand Beach and endless waterfalls. So here's our Iceland winter self-drive itinerary in mid-December.
Day 1 – London – Keflavik International Airport – Reykjavík (Driving Distance: 48km and Driving Time: 45 minutes)
We flew from London Heathrow to Reykjavík right after a 13 hours direct flight from Kuala Lumpur. British Airways flight from London Heathrow was 3 hours and 15 minutes and flight cost was GBP216 per person which included a checked-in luggage of 23kg.
After arriving at Keflavik International Airport at noon, picked up a local SIM Card at 10-11 convenience store just outside the arrival hall. Síminn voice and data SIM cards can be purchased for ISK2,900, which comes with 50 international minutes, 50 SMS and 5GB of data, or just plain 10GB data for the same price. (For more information click here.)

Data Sim Card is a must!

Took the airport shuttle to the car rental company, Blue Car Rental. Their office was within walking distance from the airport but it was quite troublesome to push our luggage through the icy roads. For a full 5 days rental, we paid ISK64,500 which included extra driver and all insurances (even the Sand and Ash Insurance). (For more information click here.)

Our Kia Sportage

Blue Car Rental

Airport Shuttle Bue

Stopped at Bonus Supermarket to stock up some food and snacks.

Food is cheaper at the supermarket

Drove to Reykjavík and checked into Fosshotel Reykjavík.

Fosshotel Reykjavík

Visited The Icelandic Phallological Museum a.k.a The Penis Museum. The adult ticket was ISK1,500 per person. Apparently they have the largest collection of penises of different species (man included) in the world.

Largest penis from the whale

Different types

Iceland's Olympic Handball Team

Wandered around Reykjavík town centre on foot. Had a beer at Vitabar and visited the famous Hallgrimskirkja Church from the outside as it was closed by the time we got there.

Vitabar

Hallgrimskirkja Church

Hallgrimskirkja Church

Had the best hot dog at Baejarins Beztu Pylsur hot dog stall. 1 hot dog was ISK450 and it was additively delicious.

Beztu Pylsur hot dog

The best hot dog!

Dinner at Saegreifinn Restaurant (Sea Baron in English) at the Reykjavík Old Harbour where we had great lobster soup and grilled seafood skewers. We also tried whale meat for the first time which looked like steak but tasted like fish. Dinner for two with beer was ISK8,500.

Saegreifinn Restaurant (Sea Baron)

The best lobster soup

Whale meat sample

Seafood skewers

Continued wandered around Reykjavík, walked passed Harpa Music Hall and Sun Voyager before retiring for the night.

Harpa Music Hall

Sun Voyager
Day 2 – Reykjavík – Thingvellir National Park – Geysir – Gullfoss – Hella (Driving Distance: 224km and Driving Time: 4 hours)
Left Fosshotel Reykjavík after breakfast and drove to the Golden Circle.
1st stop of the Golden Circle was Thingvellir National Park where we walked between 2 continents (North American & Eurasian tectonic plates). Other top places to visit in Thingvellir National Park are Lake Thingvallavatn (the largest natural lake in Iceland), Logberg (the Law Rock where the country's Althing parliament assemble), Oxararfoss waterfall.

North American & Eurasian tectonic plates

Thingvellir National Park

Logberg (the Law Rock)

The frozen Oxararfoss on the right

Continued the Golden Circle drive to Geysir, the first geyser described in a printed source and the first known to modern Europeans.


Waiting to blow!

So powerful!

And so high!

Last of our Golden Circle stop was Gullfoss (Golden Waterfall), the largest volume waterfalls in Europe!

Drove to Hella and checked into Stracta Hotel Hella.

Stracta Hotel Hella
Day 3 – Hella – Seljalandsfoss – Skogafoss – Reynisfjara Black Sand Beach – Fosshotel Glacier Lagoon  (Driving Distance: 275km and Driving Time: 5 hours)
First Northern Lights/Aurora sighting before breakfast.

My 1st Northern Lights encounter

Left Fosshotel Reykjavík after breakfast and drove to the 1st waterfall of the day, Seljalandsfoss.

Seljalandsfoss

Next waterfall 30 minutes away, Skogafoss. This waterfall is wider and taller than Seljalandsfoss. If you want to learn more about this waterfall, check out 5 things to know about Skogafoss Waterfall.

Skogafoss

Drove to the Reynisfjara Black Sand Beach and lunch at Black Beach Restaurant. 2 Icelandic lamb meat soup and 1 smoked fish was ISK5,900.

Lamb meat soup for lunch

Explored the Reynisfjara Black Sand Beach and its famous Reynisdrangar basalt sea stacks.

Reynisdrangar basalt sea stacks

Reynisfjara Black Sand Beach

The black sand

Stopped by Vik to buy the Icelandic Wool clothing.

Expensive Icelandic wool jacket

The longest single drive (almost 3 hours) from Vik to Fosshotel Glacier Lagoon for 170km, passed through Eldhraun (mass lava field covered in moss & snow).

Lovely scenery along the way

Glacier Lagoon

2nd Northern Lights/Aurora sighting at Fosshotel Glacier Lagoon.

Aurora burst!
Day 4 – Fosshotel Glacier Lagoon – Jokulsarlon – Vik  (Driving Distance: 235km and Driving Time: 4 hours)
Checked out of Fosshotel Glacier Lagoon and drove to Jokulsarlon.
Blue Ice Cave tour at 10.40am by Extreme Iceland for ISK19,990 per person. The meeting point was the Jokulsarlon car park and the tour was almost 3 hours including travelling time. The cave is quite small so be ready to share the small place with a lot of other tourists. I had to wait a while to get a less crowded picture.

Blue Ice Cave tour

Wandered around Jokulsarlon to see the amazing icebergs.

Jokulsarlon ice bergs

Drove across the road to the Diamond Beach.

Amazing ice diamond

Beautiful diamond beach!

The ice diamond!

Another long drive back to Vik and checked into Farmhouse Lodge.

Farmhouse Lodge
Day 5 – Vik – Reykjavík – Blue Lagoon (Driving Distance: 210km and Driving Time: 3.5hours)
Left Farmhouse Lodge and drove to Reykjavík for coffee and snacks. We went to another Baejarins Beztu Pylsur hot dog stall by the fringe of the city inside the Holtagarðar shopping centre.

The food that we ate twice in Iceland

Continued our journey to the Silica Hotel by Blue Lagoon. The most luxurious accommodation to end our Iceland trip. Check out my full review and experience at Silica Hotel here.

Beautiful room at Silica Hotel by Blue Lagoon

Afternoon dip in the Blue Lagoon. Premium passes for admission is already included in the room charges of Silica Hotel.

Beautiful sunset

The must do in Iceland

Oh so blue!

Dinner at the Lava Restaurant- inside Blue Lagoon. We splurged on the tasting menu which was ISK10,300 per person.

Inside the restaurant

The main course
Day 6 –  Blue Lagoon – Keflavik International Airport (Driving Distance: 23km and Driving Time: 30 minutes)
One last dip in the Blue Lagoon private pool in the Silica Hotel.

The private lagoon at the Silica Hotel by Blue Lagoon

Checked out of the Silica Hotel to return our rental car to Blue Car Rental.
Got dropped off at the Keflavik International Airport by the airport shuttle.
Checked in our flight and returned to London.

Goodbye Iceland
Iceland In Winter Was Breathtakingly Beautiful
That's the end of our amazing Iceland winter trip in mid-December. We were so lucky to have seen the Northern Lights 3 times out of the 5 nights there. It was my first time seeing the Northern Lights and before I came I kept telling myself that I would be fine if I didn't get to see it. But once I saw it, I got so hooked and I wanted to see it every night. In short, Iceland was beyond awesome! I'd definitely return to Iceland, maybe in the warmer days to see the green side of the country. Most importantly, if a couple could survive travel together through the winter storms in Iceland, we could probably survive life together…
So have you been to Iceland before? It's getting so popular nowadays and definitely worth being on everyone's bucket list, especially in winter when you can chase the Northern Lights and visit the Blue Ice Cave.
---
Check out my other posts on Iceland here.
Check out my other travel itinerary here.
Do follow my adventures on Facebook here and Instagram here.
---