Looking For Best Hotels fo Staycation in Kuala Lumpur?
As we are settling into the "new norm" and learn to travel again, let me share some of my favourite staycation in Kuala Lumpur. My personal preferences are those hotels that could offer most things under one roof apart from a great night of sleep, such as restaurants with good selections of food & beverages, spa, gym & swimming pool, as well as a great bar to wind down. Whether for Instagram worthy outings or for couples' getaway, these are the hotels that I'd stayed before and I'd only recommend places that I'd personally use.
1. W Kuala Lumpur
One of the best view hotels in Kuala Lumpur with the gorgeous sight of the majestic Petronas Twin Towers, W Kuala Lumpur is the most energetic hotel in the city. I've done 3 staycations here and it is still the one that I keep coming back for more.
What I Loved about W Kuala Lumpur
Vibrant suite design and lively atmosphere.
Great service. Whatever/Whenever is W Hotel's motto and this property lives up to it.
Cool places to chill & drink at WET Deck and WOOBAR. Cocktails are great!
The food at YEN (Cantonese Chinese restaurant) and FLOCK (Modern Australian restaurant) are outstanding.
AWAY Spa is one of the best luxury spas in town
Plenty of Instagram worthy places within the hotel. Who doesn't love the Petronas Twin Tower view over its swimming pool?!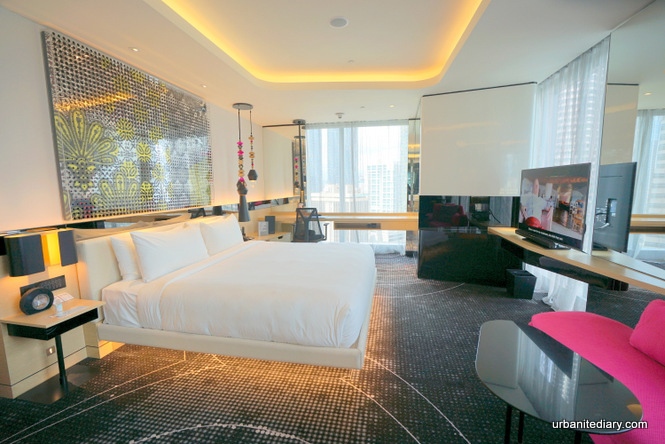 2. Hotel Stripes Kuala Lumpur
Located in one of the most quirky neighbourhoods in Kuala Lumpur, Hotel Stripes Kuala Lumpur is one of my favourites for a laidback staycation. This area is where I got married too and the hotel was used for our friends & family from all around the world.
What I Loved about Hotel Stripes Kuala Lumpur
Chic industrial design with rustic charm.
Lovely rooftop swimming pool & bar with an amazing view of KL Tower.
The food at Brasserie 25 (modern French restaurant) is delicious.
Charming local neighbourhood to explore which is unique to other parts of the city.
3. Element Kuala Lumpur by Westin
A simple no-fuss hotel near Petronas Twin Towers with 'Green" eco-friendliness in mind. Located high above the 5th tallest building in Malaysia, Menara Ilham, Element Kuala Lumpur is one of the highest hotels in town, with a lobby at 40th floor and rooms from 41st floor – 53rd floor. This mid-range hotel ticks a lot of my boxes, most importantly it offers great value for money. Big Teddy surprisingly popped the question here in this hotel when we did our last staycation, so it will always hold a special place in our heart.
What I Loved about Element Kuala Lumpur by Westin
Green concept for eco-friendly lodging
Awesome heated indoor saline swimming pool overlooking the famous Petronas Twin Towers. It is one of the best-kept secrets in Kuala Lumpur for one of the coolest swimming pools in the city.
Signature Westin's Heavenly Bed which guarantees a great night of sleep.
TRACE Restaurant and Bar has some of the best Asian dishes I've ever eaten.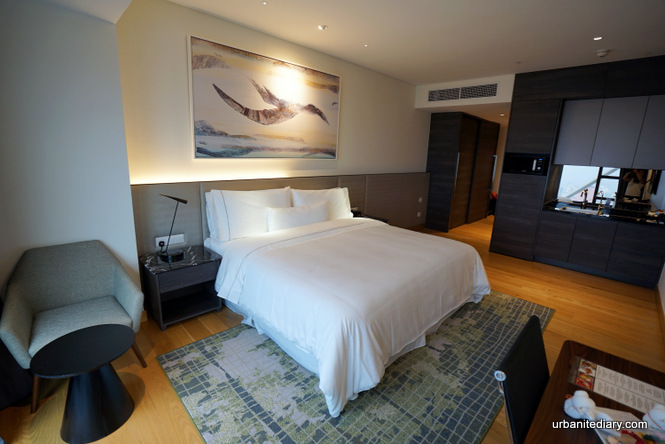 4. Sofitel Kuala Lumpur Damansara
The 1st ever Sofitel in Malaysia, offering a different luxury experience in a different part of the city. Located in an up and coming township, Damansara City is growing into a busy hub.
What I Loved about Sofitel Kuala Lumpur
Best luxury hammam Spa in Kuala Lumpur.
Signature MyBed™ with great night sleep.
Multiple dining options with decent restaurants. I love Wan Chun Ting, the in-house Cantonese and Imperial cuisine restaurant. Do try the Peking Duck here.
There's a shopping mall, DC Mall connected to the hotel.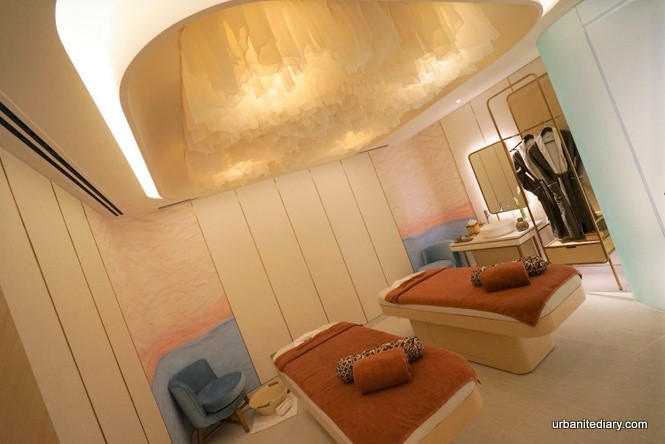 5. Alila Bangsar
Chic design hotel in the Bangsar neighbourhood for a contrary Kuala Lumpur city experience. Brickfields, the 'Little India" of Kuala Lumpur is just a stone throw away from this hotel.
What I Loved about Alila Bangsar
Elegant modern design throughout the hotel, from common places to room & suite.
Entier Restaurant is my favourite modern French restaurant in town.
Pacific Standard is a swanky New York styled cocktail bar.
Plenty of Instagram worthy places within the hotel.
BONUS! Peculiar Choice – Sekeping Serendah

Sekeping Serendah is technically not a hotel but a jungle retreat at the fringe of Kuala Lumpur. It offers a totally unique experience if you are looking for a change of view in the city.
What I Loved about Sekeping Serendah
Jungle location close to nature
Private BBQ dinner right on the patio of your chalet
No air-conditioning but surprisingly cold at night. A break of habit for those who constantly in need of air-conditioning (like Big Teddy)
You can choose between couples' chalet or a big group bungalow
Lots of fresh air!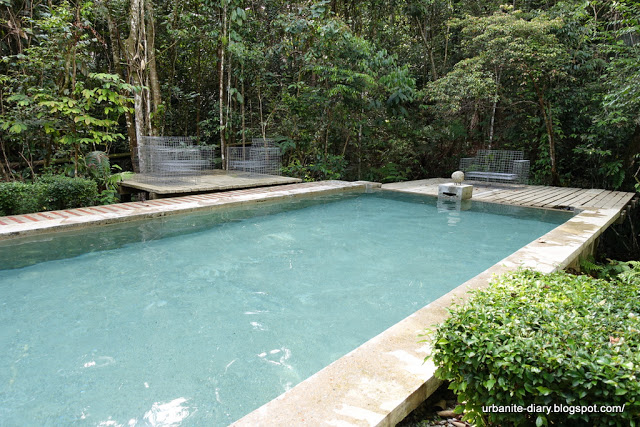 Do you have your own favourite staycation in Kuala Lumpur? Or have you been to somewhere new recently? Do share with me in the comment below.
---
Check out my other hotel reviews here.
Do follow my adventures on Facebook here and Instagram here.